So my daughter and her husband and son spent a few weeks in a lovely ocean front home and they generously invited me to join them. What a gift it was to be able to walk out the back sliding door onto a deck that led directly to the ocean beach! The salty scent of the air; the sensual feel of the cold wet sand between my toes; the penetrating warmth of the sun soaking into my weary, aging skin; the incredible sight of the illumi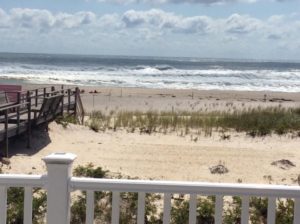 nated sky at night; the soothing sound of the waves lapping against the shore as I drifted off to sleep, were all a sheer joy. To live at the beach is to experience the world through all the senses. My physical, mental, emotional and spiritual bodies were absolutely drenched in the energy of Pachamama, and the result was a glorious high…a lift that no pharmaceutical could ever rival.
My 4 year old grandson is lucky enough to still be constantly in touch with all of his senses. Thankfully, nobody has yet harnessed his quest to discover, through smell, touch, sound, taste, and sight, the experience of living. This became crystal clear to me as I stuck my head into the car to greet him after being away for a month. Still strapped into the car seat, his face lit up with delight as he squealed "Nona, I missed you! I haven't smelled your skin and your hair for a long time!" I burst out in a smile to think that he experiences me on multi-levels… that my hugs are more than just the feel of my arms wrapped around him.  I hope he never loses this precious gift of experiencing the world intensely and sensually. I want to experience life that way again. I made myself a promise to work on it.